Welcome to WPWMagazineOnline #16 (March 2008) featuring the full reproduction of the May/June 1985 Women's Physique Publication (WPP) print magazine with Renee Casella on the cover, and the Jan/Feb 1989 WPP issue with Julia Kover on the cover. The Casella issue features full photo/bios on Casella, Cathey Palyo, Rose Byrnes, Lorraine Gari, Esi Rainwater and others. Contest coverage features the 1985 Californias with lots of photos of Mishay Santos, Laura Beadry, Mimi Hitzman, Kathy Moore, Doughdee Marie, Sue Springsteen and others. Also, full coverage of the 1985 Pro Worlds and Europeans showing Mary Roberts, Tina Plakinger, Vera Bendel, Deanna Panting, Kay Baxter, Anita Gandol, Lynne Pirie, Juliette Meyer Bergmann and many others. The Kover issue features photo/bios on Kover, Lisser Frost Larsen, MaryEllen Campo and Rebecca Barrington. The 1988 Women's Extravaganza Strength and Physique show is reported on, featuring lots of shots of the women in the strength show- Mary Ryan Jeffrey, Raye Hollitt, Karen Pica, Rhonda Lundstedt, Denise Rutkowski, Tazzie Colomb, Tara Dodane and Cyndie Meintzer. In addition, there is a full page of pictures of Annie Rivieccio- might be the earliest taken of her, as she was in the physique show. The 1988 Ms. Olympia is also featured with lots of pics of Cory Everson, Anja Langer, Bev Francis, Tonya Knight, Ellen Van Maris, Carla Dunlap, Janice Ragain and many more.
In addition, we have two new videos/DVDs for March: WPW 717 featuring "Sharee" Scadron in massive off-season condition and WPW 718 with Michelle Ivers in contest shape. Older video titles on DVD for the first time include WPW 104 (Tommie Moreau), WPW 128 (Cyndie McGowan, Kelley Riley, Kay Reich, Tonya Knight, Karen Rodriques and Valerie Basilone- about 20 minutes each), WPW 207 (Rhonda Lundstedt and Janice Ragain 1991, and Leisa Campbell 1990 and 1991), WPW 254 (Diana Dennis), WPW 397 (1999 Ms. Olympia) and Ray Martin 41 (Joanne Lee). See our WPWOnline video/DVD store for more information.
We just got word as we were composing this that former IFBB Pro Shelley Beattie passed away on 2/13/08 at age 39. We will have a tribute for her in our April 2008 OnlineMagazine #17, which will featuring downloads of our two print magazines which had her on the cover- WPW Nov/Dec 1994 and WPP 1990 #3.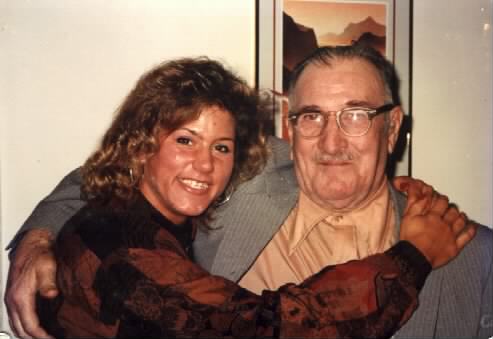 We regret to inform you that former IFBB Pro Shelley Beattie died on February 13, 2008, just a few months short of her 40th birthday. We will reproduce our two WPW/WPP print magazines with her on the cover for our April Online Magazine. She is shown here in an early 90's photo with Bob Bonham's father, who passed away a year earlier. Bob is the owner of Strong and Shapely Gym in East Rutherford, NJ, where we do most of our gym photo sessions.
Check out our Blog at: http://wpwmagazineonline.blogspot.com/