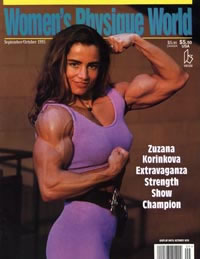 Welcome to WPWMagazineOnline #18 (May 2008), featuring full reproductions of our September/October 1995 WPW (with Zuzana Korinkova on cover) and March/April 1986 (Denise Zimmerman cover) print magazines. The WPW issue features full coverage of the 1995 Extravaganza Strength Contest and pro and amateur fitness events, the 1995 Ms. International, Emerald Cup and Steel Rose, among other features. Renita Harris, Angie Kirk, Vicki Lestanko, Karla Nelson and Mah-Ann Mendoza have photo/bios.

The WPP issue features many local/regional contests from 1985, including Steve Wennerstrom's west coast report, Mike Bailey for the northwest/Canada, and there is east coast coverage as well. Many photos of very good lesser known women from that era as well as early shots of more famous women such as Michelle Ivers (still competing today!!), Doughdee Marie, Renee Casella, Reggie Bennett, Mimi Hitzman, Lori Walkup, Gea Johnson and 'Athena' (still as a teenager).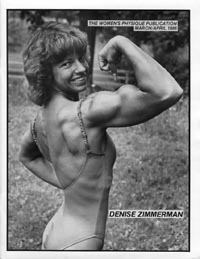 In addition, we have four new videos/DVDs for April and May: WPW 719 (Trudy Ireland in ripped contest shape), WPW 720 (Canadian star Pam Howard in huge off-season shape), WPW 721 (new figure competitor Lisa Person in contest shape) and WPW 722 (national bodybuilding stars Kelly Dobbins and Diana Cook in top contest shape). In addition, we now have the following older videos on DVD for the first time: WPW 99 and 161 (both of Sharon Arrildt-Marvel), WPW 116 (Diana Dennis), WPW 187 (Nikki Fuller) and WPW 202 (1991 Extravaganza Strength Contest). Visit our online store for more info and how to order!!